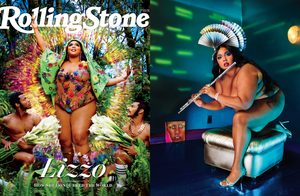 Just for the Fans—Lizzo Charts New Territory in Bijou Van Ness Custom Headpieces for Rolling Stone
Posted on
by Rehn Dudukgian
Inspirational and iconic, pop goddess Lizzo steps onto the pages of the February 2020 issue of Rolling Stone sporting not one, but two custom-designed Bijou Van Ness headpieces. The show-stopping photo spread is the work of LA-based stylist Brett Nelson and visionary photog David LaChapelle, famous for his colorful, thought-igniting work inspired by iconography. No subject could be a better fit than the instantly-iconic Lizzo, who leaps from the pages playing Sasha Flute, and clad only in the magnificent "The Fan" headpiece from Bijou Van Ness. 
Working in metallic hues, I crafted a cascade of numerous paper-style fans accented by a metal, Swarovski jewel-tipped chopstick. The piece was created specifically for Lizzo.
A few pages in, we find the songstress topped in "The Orchid," a bespoke flower headpiece created for this shoot. The subdued hues of the silk flower pop against LaChapelle's color board, bringing a warm glow to the entire image. 
The entire shoot is just stunning, and it's an honor to see Bijou Van Ness' headpieces worn by such an amazing and influential artist as Lizzo!